Quality Products • Salaried Consultants • Superior Customer Service
Let Us Help You Achieve Your Goals!
Non-FDIC Insured investment products and fee-based Financial Planning Services* are offered by our Financial Services Officers
Barb Clare
Financial Services Officer
Phone: (503) 668-2575
Kylee Moore
Financial Services Officer
Phone: (503) 668-2580
We make it easy to get started. Whether you are a hands on investor or would rather put it away and not stress about it, we can help!
Stocks
Bonds (both taxable and tax free)
Mutual Funds
Annuities (variable or fixed)
Retirement Plans (business & individual)
Rollovers
Estate & Retirement Planning
Fee Based Financial Planning
Asset Management
Brokered CDs (FDIC insured)
Looking for insurance coverage for the entire family, or other personal or business insurance we are here to help.
Health Insurance

Individual
Group
Medicare

Life Insurance
Long Term Care
Insurance products offered through Clackamas County Bank Agency
*Securities offered through Cambridge investment Research, Inc., a Broker/Dealer, member FINRA/SIPC Investment Advisory Services offered through Cambridge Investment Research Advisor, In., a Registered Investment Advisor.
Cambridge Investment Research, Inc., & Cambridge Investment Research Advisor,In. are not affiliated with CCB Financial Services or Clackamas County Bank.
Security Products offered are: NOT FDIC INSURED MAY LOSE VALUE NO BANK GUARANTEE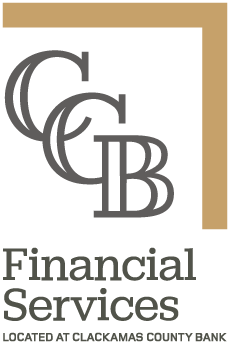 38975 Proctor Blvd • Sandy, OR 97055