CCB Insurance Services is an independent insurance agency working with numerous insurance carriers, providing property and casualty products for your personal and/or business needs. CCB Insurance Services is affiliated and located at Clackamas County Bank
Don't wait until it's to late, let us help you protect what you have worked hard for. It's as easy as 1-2-3.
Personal
Specialty
Small Business
Commercial
And more...
Get Your Free Quote Today! We are here to help!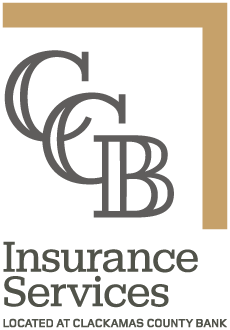 Peace of Mind for What Matters Most
A Clackamas County Bank Affiliate
38975 Proctor Blvd • Sandy, OR 97055 • (503) 668-2524
Email: info@ccbinsuranceservices.com
Facebook
Insurance products are offered by CCB Insurance Services LLC, not by Clackamas County Bank. CCB Insurance Services LLC is licensed as an insurance agent and acts as an agent for insurers. Insurance policies are obligations of the insurers that issue the policies. Insurance products may not be available in all states.
Insurance Products: Are NOT Deposits • Are NOT FDIC-Insured • Are NOT Insured By any Federal Government Agency • Have NO Bank Guarantee • May Go Down In Value
In the case of an application for credit in connection with which an insurance product is solicited, offered, or sold, the bank may not condition an extension of credit on either the consumer's purchase of an insurance product from the Agency, or the consumer's agreement not to obtain insurance from another entity.